KnoWerX PGP Series of Programs and Benefits
"KnoWerX Professional Growth Program" series of education, leading to various certificates, is aimed at professionals to be able to get deeper understanding of concepts on which businesses and ERPs (like SAP) runs to improve their own individual performance and performance of their organizations.
Benefits to individuals include more practice oriented knowledge, better job readiness for the corporate world, improved performance on the job, ability to use ERP (like SAP) better, added advantage when applying for jobs, greater preference by corporates, etc. All of these would obviously lead to higher pay and faster job placements.
Benefits to organizations include better trained work force, improved ROI on ERP / technology investments, etc. All these would obviously lead to better productivity, effective business processes, reduction in errors and rework, etc. that would add to competitive advantage, growth and profitability.
Course in Forecasting and Demand Management
In today's VUCA (volatile, uncertain, complex and ambiguous) world it has become more and more difficult to predict and manage demand. It has become difficult due to complex global supply chain, reduced customer delivery expectation time, higher product variety, high product customization, reduced product life cycle, reduced transaction friction, increased competition, etc.
This program covers various expects of demand management including practice-oriented business forecasting models from strategic business planning to operations planning. Participants will be benefited with focused and practice-oriented knowledge of various forecasting and demand management methodologies resulting in their improved ability to manage demand for organizations they work for. As a result, their organizations would experience increased customer satisfaction, reduced stock outs, scheduling supplies more effectively, reduced safety stock, reduced product obsolescence cost, better shipping performance, etc.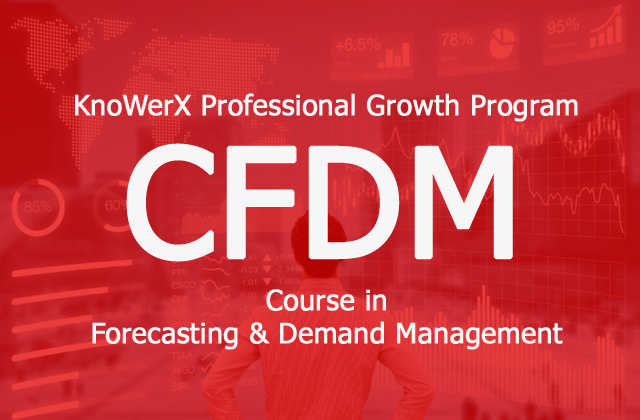 Prerequisites
Participants must have basic knowledge of business management concepts and process flows especially in sales and distribution, and, materials management domain.
Target Audience
This program must be attended by everyone in an organization who is directly or indirectly involved in demand management and/or provide support, including but not limited to:
Vice President – Sales & Marketing
Demand Managers
Product Managers
Marketing Managers
Sales Managers
Sales Executives
Sales & Operations Planning (S&OP) Coordinators
Master Schedulers
Supply / Production Planners
Material Planners
Production Managers
Distribution Managers
Logistics Managers
Sourcing Managers
Purchase Managers
Cost Controllers
Cost Accountants
Master Data Maintenance Team Members
Business Analysts / Business Consultants
Information Technology Consultants supporting above functions
Topics Covered
Demand Management: Basics
Sources of Demand
Independent versus Dependent Demand
Stable versus Dynamic Demand
Components of Demand
Product Life Cycle
Certain versus Uncertain Demand
Cumulative Lead Time versus Customer Delivery Lead Time
Demand Volatility in the New World
Demand Forecasting (Strategic, Tactical and Operational)
Qualitative Forecasting Techniques
Extrinsic Quantitative Forecasting Techniques
Intrinsic Quantitative Forecasting Techniques
Focus Forecasting
Pyramid Forecasting
Forecasting Steps
Measures of Forecast Error
Measure of Demand Variability
Safety Stock Calculation
Primary Reference Materials
Customized hand-outs from KnoWerX will be given to participants.
Secondary Reference Materials
Participants must source and study other books authored by practitioners, world-wide web, ERP documentation, etc. to prepare for exam and get deeper insight.
Duration and Teaching Methodology
The program will be covered in 8-10 instructor-led online sessions each of 1-1.5 hours.
Exam Preparation Methodology
Training and self-study.
Exam Format
50 multiple choice questions to be answered in one hour. There is no penalty for giving wrong answer. Participant must score 75% or above to pass the exam.
The exam is based on body of knowledge and not limited to hand-outs or a text book. So, questions may come from outside the hand-out also.
The exam tests the concept and not the memorization of study materials. Basically, it tests skills at the "application" level of Bloom's Taxonomy, so that participant is able to solve unseen problems in real business situations.
Awards
A certificate will be issued to all participants who pass the exam.
Cost
Total cost is ₹14,750 per participant (including 18% GST) subject to a minimum of 10 participants. The cost includes the hand-out, 8-10 online sessions and the exam.