The Certified in Logistics, Transportation, and Distribution (CLTD) credential prepares you to meet today's supply chain management challenges. The CLTD designation, developed by APICS in collaboration with a group of subject matter experts, encompasses a thorough level of information that sets the international benchmark for best practices in logistics, transportation, and dissemination.
Since 2016, the APICS Certified in Logistics, Transportation, and Distribution (CLTD) designation has been available. The CLTD programme is ideal for aspirational professionals working in logistics, transportation, and distribution who want to enhance the logistics function within their organisation.
APICS- CLTD
APICS Credentialed in Logistics, Transportation, and Distribution (CLTD) provides a complete wealth of research, best practices, and standards for those working in logistics, shipping, and distribution companies. The APICS CLTD designation meets the needs of both experts and employers worldwide by limiting the effects of industry skills shortages and aiding business owners in constructing the personnel required to meet customer requirements and influence bottom-line results.
The APICS CLTD Learning system is the most efficient CLTD certification exam preparation system available. It is divided into eight components spread across four books that represent the entire APICS CLTD Exam Content Manual (ECM), leveraging the ECM's source reference list citations as well as other current logistics reference books.
Benefits of CLTD
The CLTD program enables you to prove in-depth knowledge of a wide range of topics, distinguishing you from your coworkers and demonstrating a high level of skills. You'll be a more valuable asset to the company, retaining you and your company productive in today's dynamic business environment.
Develop your expertise in logistics, mass transit, and distribution. Certification shows an in-depth understanding of a wide range of topics, distinguishing you from your peers and demonstrating your high abilities and expertise.
Is CLTD the correct option for you?
The CLTD can be a wonderful option if you want to go into the field of logistics and management. CLTD provides individuals with a plethora of skills at their disposal to gain an edge in the market.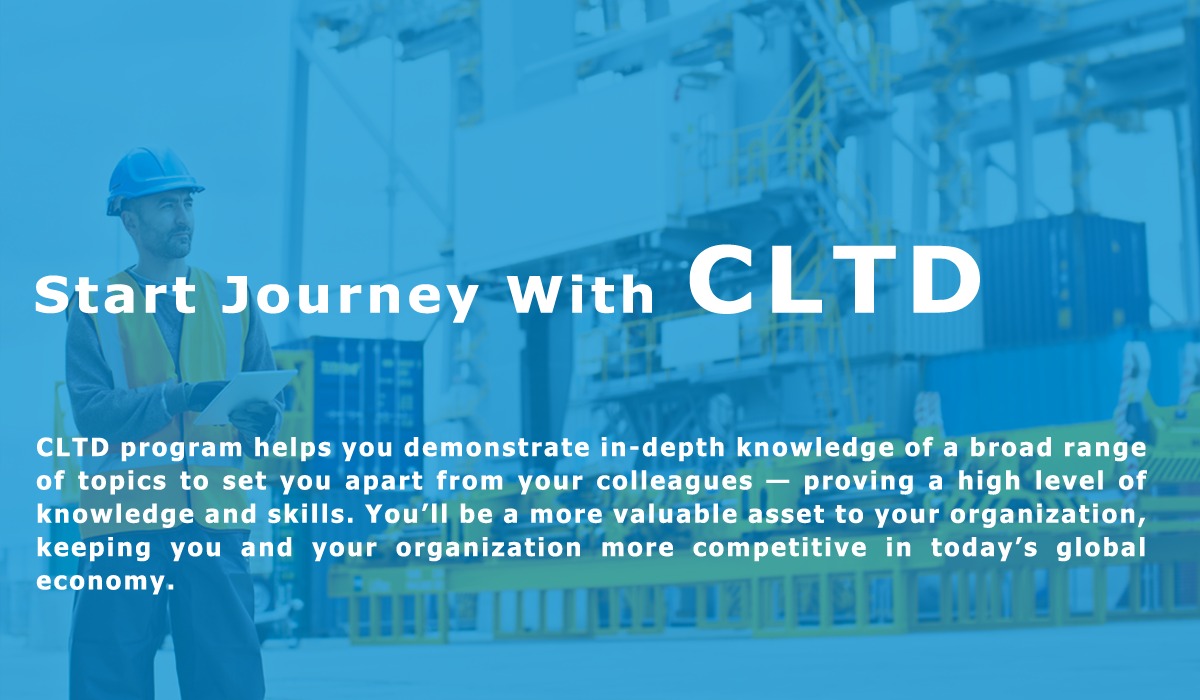 APICS CLTD education is essential for?
Master the essential knowledge needed for the logistics, transportation and distribution industry
Expand your outlook on the logistics field and enable you to bring new ideas to your organization
Remain current with global logistics trends and developments
Boost your confidence with recognition as a logistics expert
Provide you with the tools you need to help reduce costs and increase customer satisfaction
The CLTD program consists of eight modules with an exam that reflects critical areas in logistics, transportation and distribution for the roles and responsibilities of logistics managers. The SINGLE exam consists of 150 multiple-choice questions. Candidates will have 3.5 hours to complete the exam. To earn the CLTD certification, you must master each of the following:

MODULE 1 Logistics and Supply Chain Overview
MODULE 2 Capacity Planning and Demand Management
MODULE 3 Order Management
MODULE 4 Inventory and Warehouse Management
MODULE 5 Transportation
MODULE 6 Global Logistics Considerations
MODULE 7 Logistics Network Design
MODULE 8 Reverse Logistics and Sustainability

Preview the APICS CLTD Exam Content Manual Or purchase the full CLTD Exam Content Manual for INR 2,300 here.